CPP40416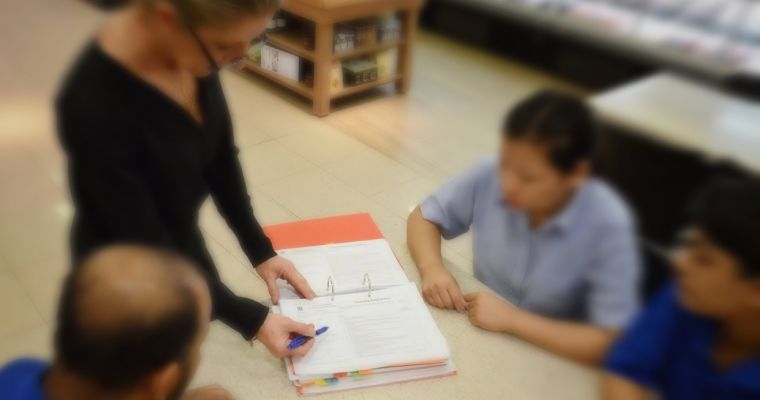 This qualification applies to individuals who use well-developed skills and a broad knowledge base in a wide variety of cleaning management contexts. They may be responsible for wide-ranging operational cleaning management activity and are responsible for managing staff, providing quotations, planning and overseeing work and providing customer support.
Possible job titles include;
Cleaning supervisor/manager in commercial cleaning organisation, health care or aged care
Owner of a small cleaning business
This qualification provides the skills and knowledge for an individual to be competent in a range of management skills to oversee a cleaning operation. Key cleaning management skills include understanding the fundamental of leadership and effective communication methods, problem-solving, planning and organising, dealing with customer complaints and managing budgets.
Course Information Sheet
Course Fees
Please contact Daniels Associates for course pricing.
Course pricing varies depending upon government funding and number of enrolments
Entry & Admission Requirements
For entry into this qualification you are required to be working in a cleaning supervision/management role or arrange appropriate employment in a cleaning management role. Daniels associates does NOT provide student assistance for work placement or employment. For more information on entry and admission requirements please refer to the course information sheet.
Course Outline and Learning Outcomes
The table below contains information on the Certificate IV in Cleaning Management course (Qualification) outlined and practical learning outcomes for each competency in the course.
Course Sections
Competency units
Practical learning outcomes

Section 1

Managing WHS & workplace risks

CPPCMN4007 Manage workplace safety arrangements (core)

This unit of competency specifies the outcomes required to implement and monitor the company's health and safety policies, procedures and programs to achieve and maintain health and safety standards in the workplace.
BSBRSK501 Manage risk (core)
This unit describes skills and knowledge required to manage risks in a range of contexts across an organisation or for a specific business unit or area in any industry setting.

Section 2

Managing cleaning operations

CPPCLO4022 Schedule and monitor cleaning tasks (core)

This unit of competency specifies the outcomes required to schedule and allocate staff to cleaning tasks to meet contracted service level agreements. It covers monitoring the efficiency and quality of the work through cleaning audits, preparing audit reports, and applying the information to ensure staff effectiveness for a cleaning contract. The unit involves interpreting client work orders, and applying knowledge of staff skills and availability and the range of cleaning methods available and required for the contract.
CPPCLO4024 Manage the supply of cleaning stores to the work site (core)

This unit of competency specifies the outcomes required to manage the supply of cleaning equipment, chemicals and consumables used when providing cleaning services at a work site. Supply is based on sound understanding of available cleaning methods, the equipment and chemicals used for each method, and demand estimates.
CPPCLO4003 Manage cleaning equipment maintenance and supply
This unit of competency specifies the outcomes required to ensure that equipment used by a cleaning team is inspected, serviced and maintained regularly, is fit for purpose, and is replaced when required.

Section 3

Staff induction & Cleaning techniques

CPPCLO4001 Induct cleaning staff (core)

This unit of competency specifies the outcomes required to brief a cleaning team on the client and workplace requirements for cleaning a work site. It involves identifying the client requirements, service level agreement, cleaning schedules and cleaning techniques for different areas of the work site; and planning and delivering induction sessions for cleaning team members.
CPPCLO3005 Confirm and apply privacy and security requirements for cleaning work

This unit of competency specifies the outcomes required to confirm and apply personal and property security procedures when cleaning a work site, and to maintain client privacy. It also involves obtaining and securing property access information and equipment, and confirming and applying procedures when security risks are evident.
CPPCLO4002 Develop, implement and monitor new cleaning techniques
This unit of competency specifies the outcomes required to investigate cleaning methods and materials to develop new techniques for dealing with cleaning problems, such as stubborn stains, discolouration, deposits and moulds. It involves consulting with cleaning equipment and material suppliers, trialling new methods for dealing with cleaning problems, and demonstrating new techniques to cleaning teams. The unit also covers monitoring the effectiveness of new methods and introducing adjustments in consultation with suppliers and cleaning staff.

Section 4

Managing Teams

CPPCMN4003 Establish, develop and monitor teams (core)

This unit of competency specifies the outcomes required to facilitate the development of team members' working relationships, monitor their interactions and performance, and manage coaching and incentive programs to improve team effectiveness.

Section 5

Managing clients and quoting cleaning services

CPPCLO4025 Provide quotation for cleaning services

This unit of competency specifies the outcomes required to assess client requirements, calculate the cost of required cleaning services and service conditions, and develop quotations for clients detailing both. Comprehensive knowledge is required of the use of cleaning equipment and chemicals, the range of cleaning methods available and the associated human resource requirements, as well as the company's quoting policies and procedures.
CPPCMN4004 Develop and manage client relations (core)
This unit of competency specifies the outcomes required to establish business contacts and networks, and develop and manage these relationships effectively to increase and retain the client base of the company. The unit covers identifying and analysing potential clients and their needs. It also covers exploring products or services with the client that could improve or enhance their operations, which requires knowledge of the range of organisational products and services. The unit involves managing client problems, issues and changing needs; and identifying opportunities to promote additional products and services to meet those needs.

Section 6

Sustainability

CPPCMN4001 Develop workplace policies and procedures for sustainability

This unit of competency specifies the outcomes required to develop a workplace sustainability policy to minimise and reduce resources and toxic materials used during work functions. The unit supports the development of skills to review legislation and develop and communicate workplace policies and procedures relating to environmental sustainability.
CPPCMN4002 Implement and monitor environmentally sustainable work practices
This unit of competency specifies the outcomes required to analyse the workplace in relation to environmentally sustainable work practices, and then implement improvements and monitor their effectiveness.

Section 7

Infection control

HLTINF003 Implement and monitor infection prevention and control policies and procedures
This unit describes the skills and knowledge required to provide information about infection prevention and control procedures, integrate those procedures into work practices and monitor workplace performance.

This unit applies to individuals working in health or direct client care contexts, who have a coordination, team leading or supervisory responsibility in relation to infection prevention and control.
Learning Pathways (Delivery modes)
Workshops
These workshops are normally 6 hours in duration and include training and assessment activities. At these sessions the trainer will reference and follow the guide provided within the 'Lesson Plan'.
Blended Delivery
This is a combination of trainer lead workshops, coaching and mentoring sessions and distance learning components. This model offers flexibility but also the benefits of face to face delivery.
Distance Learning
Learning materials and assessments are issued to students in hard copy or via email to study in their own space with access to trainers and administration support via; phone, email or scheduled support sessions.
Career Pathways
All candidates who undertake CPP40416 Certificate IV in Cleaning Management are provided with advice on employment and training options. Candidates who complete Certificate IV and intend to further their knowledge are encouraged to enrol in a Diploma of Management.
National Recognition
Daniels Associates recognises relevant qualifications issued by other RTOs. There is no fee for National Recognition.
Recognition of Prior Learning (RPL)
RPL is an assessment process that enables an applicant to gain recognition of skills and knowledge regardless of how they were achieved. This may include formal or informal learning, work experience or general life experience.
In order to grant RPL Daniels Associates trainer and assessor must be confident that the applicant is currently competent against the units of competence in the qualification. The evidence to demonstrate this may include certificates, references from past employers, testimonials from clients and work samples.
Where RPL is granted you do not have to participate in further training and assessment for skills and knowledge that you already possess. There is a fee for RPL assessment.
Further information regarding RPL is available on request. For more information please refer to the course information sheet, or our Recognition of Prior Learning Guide.